Basic Principles of a Deluge Fire Sprinkler System
Just as every fire is unique, the fire sprinkler system designed to suppress them are also unique in their design and firefighting response. This makes it all the more important to keep oneself abreast of the multiple categories of fire sprinkler systems available on the market.
In most cases, business owners are woefully uninformed about the kind of fire hazard that could potentially engulf their workplace and destroy several valuable assets. As a result, they are equally ignorant about making the right choice while installing sprinkler systems in their facility.
Although most cases of fire call for a simple water firefighting system, highly hazardous facilities might require a vastly different type of technology to control the fire such as a deluge sprinkler system.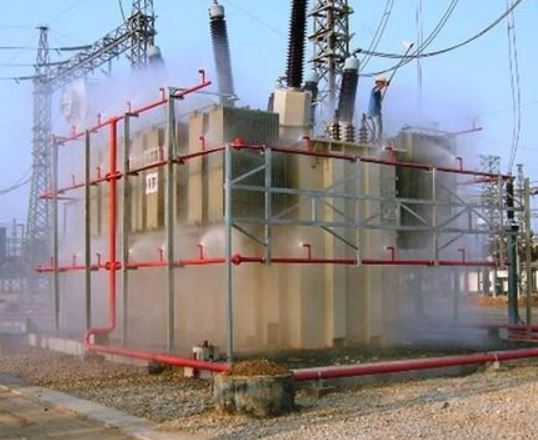 How does a Deluge Sprinkler System work?
At first sight, a deluge sprinkler system may not vary much from pre-action sprinklers. For instance, both of them are operated through the activation of in-built valves. Identical to pre-action sprinklers, deluge sprinklers use water to suppress the fire as long as they are activated to do so. But the innovation exists in the subtle differences between the two.
For one, deluge sprinkler heads are always open. This is starkly different from pre-action sprinklers whose valves withholding the water supply are activated when the closed sprinklers heads melt from the blaze. In contrast, this same valve present in deluge sprinklers is activated by a fire alarm or smoke detection system.
Where are Deluge Sprinkler Systems applicable?
Typically, deluge sprinkler systems are installed in those locations that are especially considered to be high hazard areas. These include power plants, aircraft hangars, and chemical storage units. Essentially, any facility that requires instant and high-velocity suppression of fire is in need of a deluge sprinkler system as they are the best recourse available to prevent the rapid spreading of hazardous flames.
The reason why deluge sprinklers are found to be the most effective in hazardous areas is due to their ability to instantly put out the fire by quickly spraying water or any other fire suppressant through the open sprinkler heads. Since the sprinklers are activated via a heat or smoke detection system, the response time of deluge sprinklers is quite impressive.
Pros and cons of Deluge Sprinkler Systems
As mentioned above, deluge sprinklers gain most of their notoriety from the fact that the sprinkler heads are always open. Surprisingly enough, this aspect of deluge sprinklers acts as a double-edged sword.
On the one hand, chemical fires need to be instantly contained and this is fully possible with deluge sprinklers. However, once the sprinklers are activated, water pours out from every sprinkler head even if the blaze is only limited to one specific section of the facility.
This can cause unnecessary water damage to valuable equipment housed in the establishment. Nonetheless, the fact that these sprinklers also have a manual activation feature is yet another advantage of deluge sprinkler systems over more traditional sprinklers.