Our effective and revolutionary solutions in FPS is tailor made to match individual client requirements to the tee.
SRJ Piping India Pvt Ltd specializes in setting up dependable fire detection, fire alarm, and fire extinguishing systems. We've been protecting businesses from fires since the past 35 years. As one of the best fire protection system companies in Bangalore, SRJ Piping offers a wide range of turnkey solution custom-tailored to your business needs using our in house design team. With top notch engineers and professionals at our disposal, the SRJ Group always works at a rapid pace to finish the project at the earliest convenience, without ever compromising on quality. Related to FPS we also undertake Fire sprinkler systems, suppression and FM200 systems. Our team always makes sure to keep abreast of the various standards, codes, and zonal regulations so that your fire protection system can be designed in accordance to it.
We don't just stop there, we carry out regular inspections and safety procedure checks to make sure all the systems are working perfectly in the event of a haphazard fire situation.As safety is our number one priority when it comes to protecting human life and assets. Below is our list of services we offer when it comes to fire protection.


THE FIRE PROTECTION SYSTEMS WE DESIGN, INSTALL  AND SERVICE ARE:
Fire Sprinkler Systems
Fire Alarm and Fire Detection Systems
Fire Suppression Systems – Wet and dry chemical agents, Deluge systems
Special Hazard Fire Protection Systems – FOAM, CO2 and CHEMICAL
FM-200 – High-hazard areas require specialized fire protection systems – systems that not only extinguish the fire, but protect your facility from collateral and environmental damage as well. FM-200 is one of the most effective forms of fire suppression, and in facilities from power plants to clean rooms, it is an option when water is just not.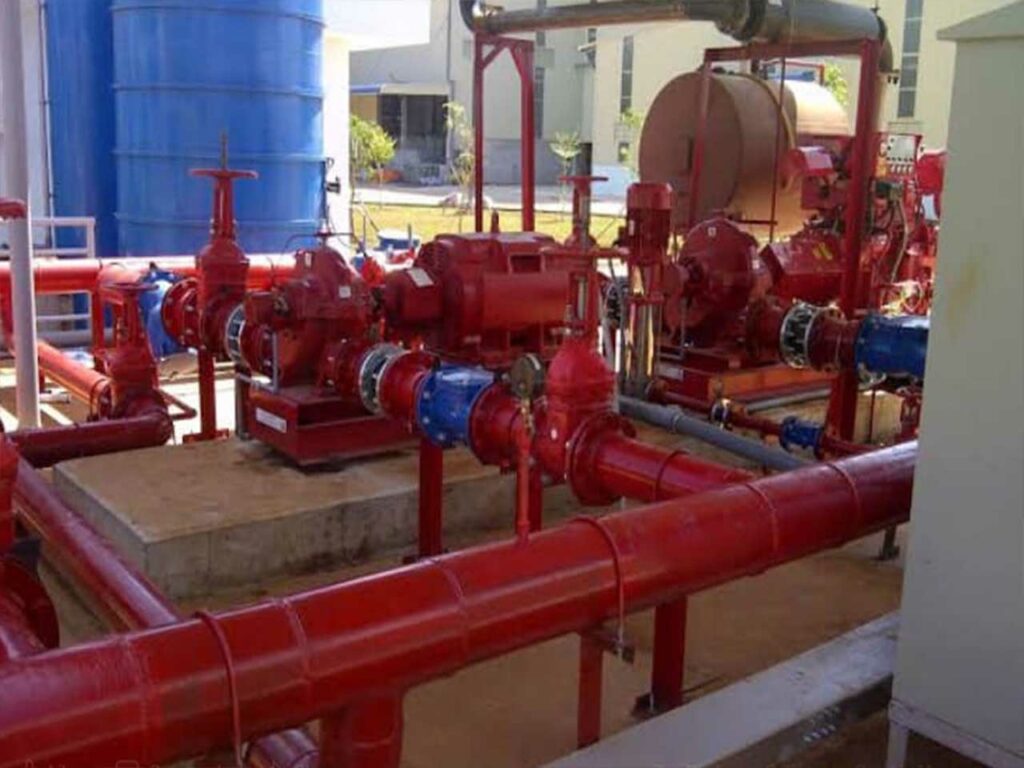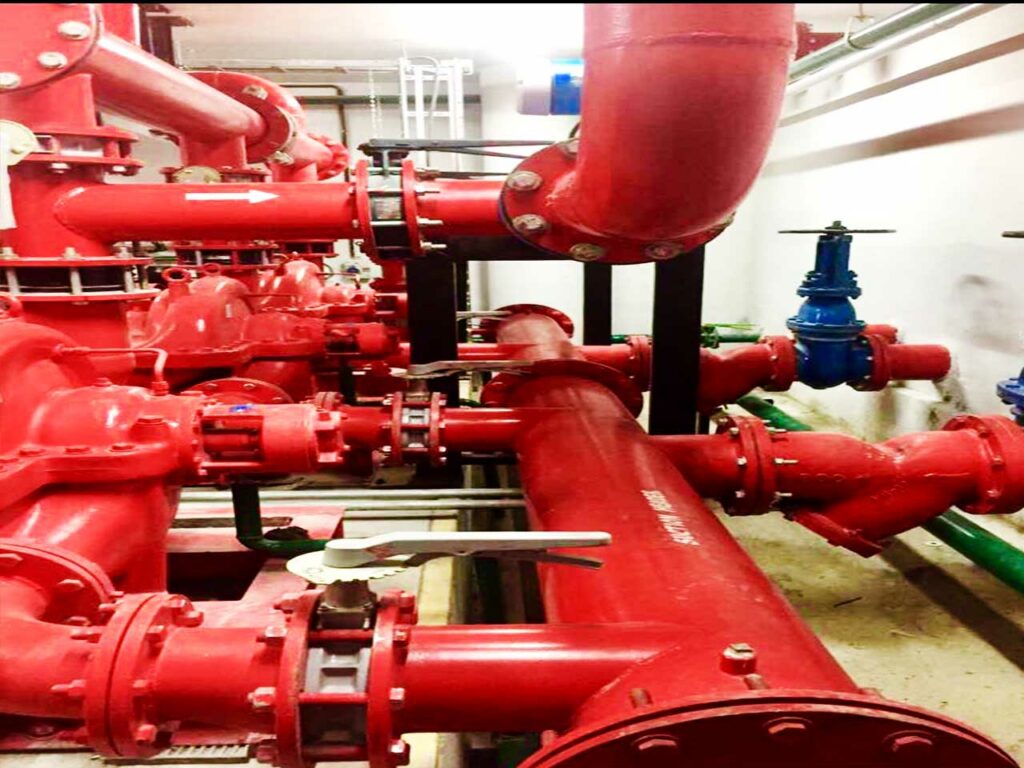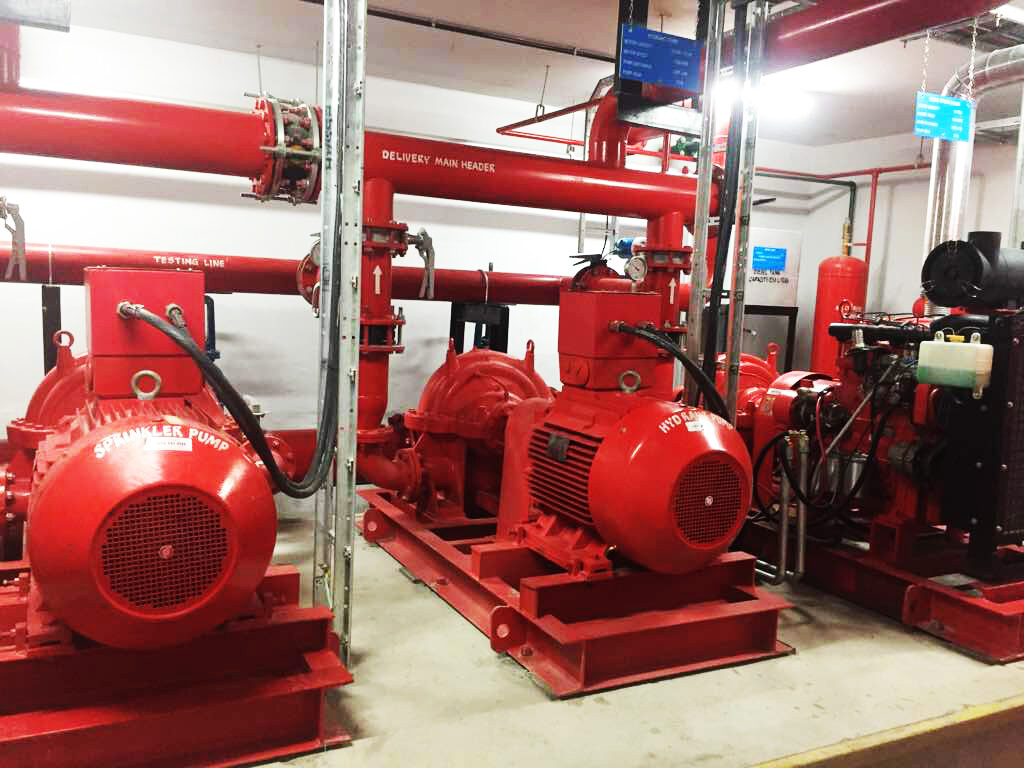 We perform all of our work under the most current version of the FM Global and NFPA standards. We guarantee our work is in full compliance with the states or the country's building standard. When you work with us, you can be sure that you're receiving only the best service available. Now more than ever cities, counties, insurance companies and other authorities having jurisdictions, are cracking down to ensure that buildings are being protected per NFPA 25 standards. SRJ has earned a reputation as one of the few contractors capable of handling major installations. In fact, with a workforce ranging from 200 to 250 professionals at any given point in the year, SRJ has changed the way many developers and general contractors assign fire suppression projects. 
We are committed to providing only the highest quality systems and services, our staff includes highly trained and experienced individuals from the engineering, installation and operation fields. We believe this may be the single most important factor in the firm's success: a professional staff with both the expertise and experience necessary to earn a strong reputation for reliability.
At SRJ there are no compromises, we entrust and believe in our expertise and knowledge of over 35 years in the industry. Our solutions are specifically tailor made to each individual project. When it comes to fire fighting, we do not take any risks of failure since we are totally aware of the repercussions of a failed fire system in the event of a fire hazard. When a fire breaks out, the systems will go into full execution so as to minimize and eliminate the fire much before it reaches an uncontrollable state. 
In order to guarantee smooth functioning of our Fire fighting systems we ensure monthly and quarterly safety checks and drills. We at SRJ consider safety our number one priority and life value maximised, hence we are sure to deliver beyond standards. 
Fire Protection System Cost Estimates
If you are interested in working with SRJ for your fire protection system design, installation, or service, we can provide you with a no obligation consultation. Our team members will draft a custom quote for your application. Prices will vary depending on the complexity of the system and the type of application. Request a quote from SRJ Piping today and we will respond within 24 hours to get your project started.
What are some types of fire protection systems?
Today, there are plenty of improved and innovative systems introduced in the market to deal with a fire outbreak.However the most commonly used are sprinkler systems, fire suppression systems – wet and dry, fire alarms and extinguishers.
2. Is fire protection systems mandatory?
In most cases, yes. Automatic fire sprinkler systems must be installed in all newly built commercial buildings with a fire area that exceeds 5,000 square feet, after any remodeling or renovation that extends the fire area beyond 5,000 square feet, or any single tenant expansion requiring a new certificate of occupancy that increases the fire area beyond 12,000 square feet. Fire sprinkler systems must be installed throughout the building and must be designed to provide the maximum amount of coverage. Buildings more than 55 feet in height must have automatic sprinkler systems installed throughout the building. Please check building code and consult local fire department to gain a clear understanding
3. Why is fire alarm systems important?
Fire alarms are extremely important to prevent a catastrophe. Early detection of fire can lead to submission of fire from spreading and alerting the nearest local fire department immediately.
4. Do i need both a fire alarm and fire sprinkler?
Both of these systems are different to each other, while a fire alarm alerts people about the fire in the building, a fire sprinkler of the other hand goes into work by spraying water and suppressing the fire in the building from spreading.
5. How do i know if my fire protection systems are working?
Our company conducts monthly and quarterly safety checks to make sure all our systems are working perfectly.
6. Which fire extinguisher should i use?
Well, there are 4 main types of fire extinguishers – water, dry powder,foam, CO2 and wet chemical. If flames break out in your home, office, or other building with ordinary combustible products, flammable liquids, and electrical wiring, a multipurpose ABC fire extinguisher(dry powder) is the proper tool to douse the blaze. For cooking fires in commercial kitchens, a Class K extinguisher is needed to put out the fire and prevent it from reflashing. Class D extinguishers are less common and are only used to fight fires that break out in chemical plants and industrial facilities with combustible metals onsite, such as sodium, potassium, titanium, and magnesium. 
Contact us for advice!
There are many companies out there that can provide these services or help clear buildings of fire department violations, but there are only a few that have the experience, availability and quality of service of SRJ as we are available to make repairs 24 hours a day, 7 days a week.Call us today for your repairs and maintenance with your Fire protection system to keep them in check and running beyond standards.