heavy Structural Fabrication
We undertake all types of structural fabrication and machine hook-ups. Contact us for additional information. 
SRJ's competency stands validated by our successful completion of several large-scale structural steel projects. We have carried out work assignments in several parts of India. As a result of our past accomplishments, there is no doubt that SRJ Piping is capable of helping you realize your dream steel structures. Our drafting, design and fabrication detailing are performed with the most high tech, advanced equipment available today including Tekla, SDS and Autodesk Revit. The top-notch quality of our work can be vouched for by the positive testimony of our clientele. At SRJ, we believe in cultivating warm and enduring relationships with all of our clients while also paying serious attention to their feedback. In the past, our team of engineers and fabricators have efficiently delivered structures like heavy steel bridges, mezzanine floors, facades, and beams to name a few.
Types of structural fabrication we undertake:
Steel framework design and installation

Poly-house 
Steel beams and pillars erection 
Heavy material hookups and installation
Corrosion protection service
Fabrication Designing only (economical fee)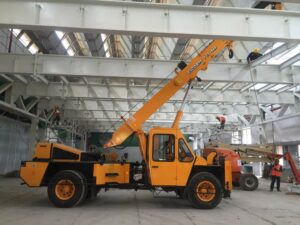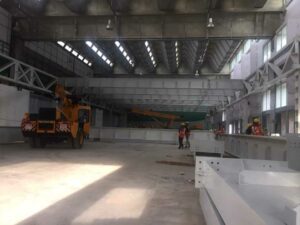 HEAVY STRUCTURAL FABRICATION PROCESSES:
Cutting – Often regarded as one of the most basic methods of fabrication, cutting steel is a task that needs to be carried out with the utmost accuracy. The unprocessed material may appear in the form of metallic sheets which is sawed or trimmed using huge machines. Naturally, the cutting precision depends on the type of equipment being used. While using CNC lathes might be the most familiar method of cutting steel, metal workers also use oxy acetylene torches to cut the metal into the desired shapes and sizes.
 Folding – Structural steel components are also obtained by bending sheet metals into shape. The traditional techniques refer to manually-operated dies carrying out the work. However, with the advent of technology, these antiquated methods have been substituted by modern machinery such as press brakes, box and pan brakes, cornice brakes, etc.

Machining – This is the process of removing metal from a piece of material. It might be done on a lathe, where the material rotates against a cutting tool, or in some other cutting machine where a rotating tool is moved in a variety of ways against a stationary piece. Drills fall into this latter category. The range of motion of the cutting head is defined by the number of axes (i.e. a 3-axis machine).

 Punching – Here, a metal sheet is perforated through a combined process of the punch and die. This 'scissor' effect is only possible if the punch and die are of the same dimensions.
 Shearing – This is a type of fabrication process which involves cutting along the length of a sheet metal using a chop-handle.
 Stamping – Not unlike the punching process, stamping essentially calls for the sheet metal to be bent and formed into the desired shape using a die.
 Welding – After undergoing various machining processes, fabricated steel products need to be assembled and, in some cases, may need to be permanently attached onto one another. This result is often obtained by carrying out a popular technique known as welding. Simply put, welding is the practice of joining any two pieces of metal together. Additionally, there are a range of techniques that are associated with welding but the most basic type of welded joint is a spot weld. Here, a filler material (in the molten state) is poured in between two metal components so that, after solidification, the end product is a singular piece. Alternatively, industrial glue can also be used to join two unlike components.
Unlike other firms, SRJ vows to design and fabricate unique steel structures with the assistance of our fantastic workforce comprising welders, design engineers, and project management experts. By competing with ourselves, SRJ has successfully tacked up a reputation that precedes us in terms of the level of service extended to our clientele. We are also steadfast believers in reinventing traditional methods so that the job can be executed in a much more efficient and organized manner. The equipments we use are highly tested and are of supergrade quality to attain maximum customer satisfaction.
We request you to trust SRJ for your projects fabrication where we will deploy our sharp minded professionals, skilled iron workers, and support staff for your structural steel project. We compete with ourselves to improve the quality of work at every step and at every project. Through our experience, knowledge and capabilities we offer full-service, from concept to delivery, Having an experience of more than 35 years has got us this far and we would like to request you to trust our company to deliver the best for you in shorter lead times and gets you to market faster with a quality product you can trust. All at a competitive price and this is our commitment to you.
Fabrication cost estimates
If you are interested in working with SRJ for any light or heavy structural fabrication design, installation, or service, we can provide you with a no obligation consultation. Our team members will draft a custom quote for your application. Prices will vary depending on the complexity of the system and the type of application. Request a quote from SRJ Piping today and we will respond within 24 hours to get your project started.
Corrosion protection services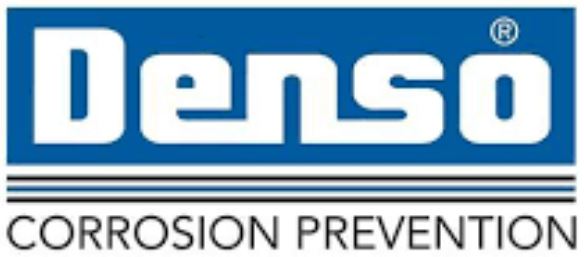 SRJ Group along with Denso  work along side to prevent and solve existing corrosion issues with piping and steel structures. We all know the huge costs incurred due to corrosion resulting in installation of new materials and added structural risks. With the use of patented technology Archco-Rigidon reinforced corrosion prevention systems to treat corroded pipes and steel structures, we are able to solve this issue once and for all. We also use petrolatum tape coating to wrap around the material to prevent and stop corrosion. We stand by our service and provide a guarantee of 20 years no-corrosion with the use of these intricate technology. Contact us for additional information about this particular service and we will provide the best solutionCorrosion protection service
What is structural steel fabrication?
Today architects and engineers use CAD to design complex structures with a lot of precision and detail. In order to meet these requirements, the steel has to undergo a fabrication process. This requires cutting, bending, and joining with the highest degree of accuracy. There are several ways in which each of these processes can be carried out depending on the material used, the size of the project, and the level of detail required.
2. What are few things to consider while dealing with steel fabrication?
Corrosion is one of the main aspects to deal with while steel is involved. Due to weathering and other environmental hazards. Hence regular inspection and maintenance is required. Another element to consider is Fire Resistant; steel doesn't catch on fire easily, making it a safe choice. However other materials within the building may result in fires. Very high temperatures caused by fires can weaken steel, causing it to soften and buckle. For this reason it's advisable to insulate steel used in the structure against heat damage.
3.
Does the material used vary? 
Yes, every project is treated individually with custom material and execution based on particular supportive requirement.
4. What is average project duration?
The timeline for fabricating a steel structure relies heavily on the dimensional factors of the product and the type of material chosen for the project. Even though the duration varies from one project to another, SRJ is confident in executing and delivering a completed steel structure within the stipulated time.
There are many companies out there that can provide these services or help clear buildings of fire department violations, but there are only a few that have the experience, availability and quality of service of SRJ as we are available to make repairs 24 hours a day, 7 days a week.Call us today for your repairs and maintenance with your Fire protection system to keep them in check and running beyond standards.